The best gifts for Father's Day
When was the last time you told your father how important he is to you? How glad you are, that your father is in your life, always has your back, is a great grandpa, etc.? If it's been quite a while, it is even more important to use Father's Day to surprise your dad with a special gift.

Thoughtful & creative: Gift a photo puzzle for Father's Day

"I've said it before, but it's absolutely true:
My mother gave me my drive, but my father gave me my dreams.
Thanks to him, I could see a future."
- Liza Minnelli

Create a Photo Puzzle Collage for Father's Day

Quotes for Father's Day
It's not a real Father's Day gift if you don't get a bit sentimental about it. Here are some Father's Day quotes and card sayings you may use to make your father extra proud of being a dad.

"When my father didn't have my hand,
he had my back."
- Linda Poindexter

"My father has always been my hero."
- Gregory Hines

"Dad: A son's first hero,
a daughter's first love."
- Unknown

"No love is greater than that
of a father for his son."
- Dan Brown

"If dad is my heart, mom is my heartbeat."
- Unknown

"It is a wise father that knows his own child."
- William Shakespeare

"A father is someone you look up to. No matter how tall you grow."
- Unknown

"To the world, you are a Dad. To our family, you are the world."
- Unknown

"My dad's my best mate, and he always will be."
- Cher Lloyd

"Dad, I may find my prince, but you will always be my king."
- Unknown

"Any man can be a father but it takes someone special to be a Dad."
- Anne Geddes

"A father is the one friend upon whom we can always rely."
- Emile Gaboriau
Create a truly unique Father's Day gift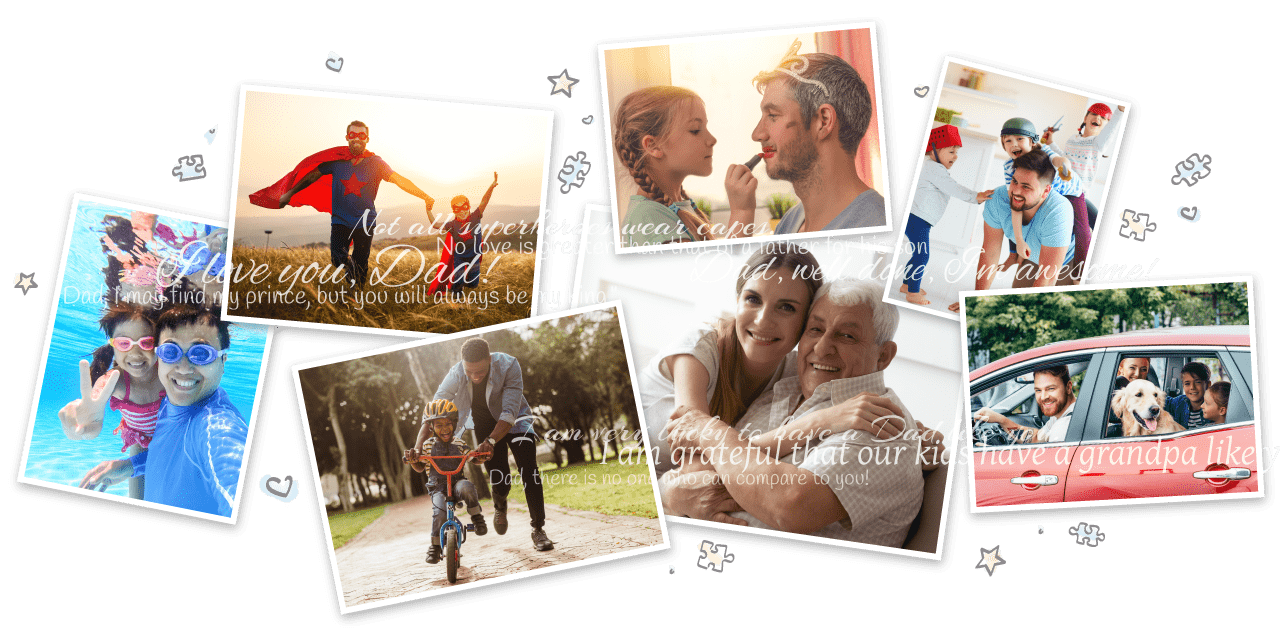 Choose the right pictures for your photo gift
We recommend you to choose pictures that fit best to your father's personality: A mixture of funny outtakes from family events or romantic moments between your parents. Action-loaded pictures of him pursuing his hobbies or make it more sentimental by choosing old childhood pictures for your own collage. Think about what would make your dad smile the brightest and go from there!
Find the right words for your photo gift
The message on your personalised photo puzzle is not everything. Why not put in a bit more effort and also give your dad a Father's Day card? With a card for Father's Day you can add sentimental value to your gift. You could tell a memorbale story from your childhood in which your dad helped you out or taught you something useful for life. Simply use this occasion to give a whole-hearted Thanks to your dad.

Short Father's Day card sayings
If the Father's Day quotes above are a tad too cheesy for you, here are some alternatives to keep it short but meaningful.
These sayings can serve as a box title or you could put them on the puzzle itself:

I love you, Dad!

Not all superheroes wear capes.

Thanks for always having my back.

Happy Father's Day!

For the best Dad ever.

Today we're celebrating the world's best Dad!

Dad, well done, I'm awesome!

I am grateful that our kids have a grandpa like you!

I am very lucky to have a Dad like you.
All prices include VAT and exclude postage.